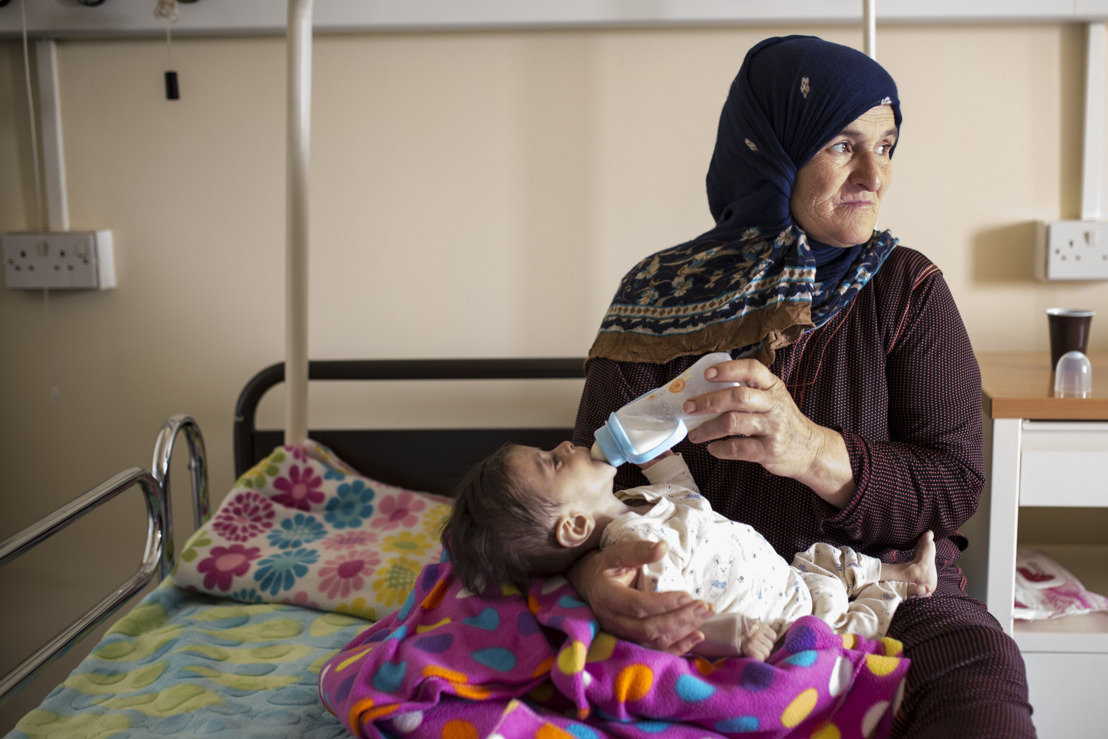 Lebanon: MSF's Specialised paediatric services in Zahle, Bekaa
Ensuring that health care is accessible for communities in greatest need of it
Monday, April 30, 2018 — 18-month-old Bayan had severe dehydration and diarrhoea, and a high fever. She was admitted to the paediatric ward that Médecins Sans Frontières/Doctors Without Borders (MSF) runs in the Elias Hraoui governmental hospital in Zahle, in the Bekaa Valley. For almost a week she had been lethargic, barely eating and unable to keep anything down, which is why her parents had decided to consult a doctor.
Her mother says, "The doctor recommended that we take Bayan to a hospital after her condition became critical. We couldn't afford to go to a private hospital; we live in a refugee camp and my husband's salary from his irregular job is not even enough for us to afford food. We had no idea what to do and were worried about our daughter, until we were guided to the WAHA [Women and Health Alliance] clinic in Zahle. From there, we were referred to the Elias Hraoui hospital."
MSF opened a paediatric ward in the Elias Hraoui hospital in Zahle in March 2017 to provide specialised healthcare services to vulnerable children of all nationalities free of charge. The paediatric ward has 28 beds and provides inpatient and elective surgical services for children aged between 28 days and 15 years.
"Bekaa Valley is one of the most in need Lebanese regions. It hosts around 500,000 Syrian refugees, one third of Lebanon's Syrian refugee population, and most of them are women and children," says Audrey Landmann, MSF's head of mission in Lebanon. "This region faces a lack of access to affordable secondary and tertiary healthcare services, and those that do exist are privatised and very costly, so the most vulnerable Lebanese and refugee communities cannot access them. Through our programme in Zahle, MSF tries to cover this gap and provides specialised healthcare free of charge, including surgery and intensive care, ensuring that these services are accessible for communities in greatest need of them."
The story of Rakad, a Syrian mother, confirms what Audrey says. She sought medical care for her daughter Amara in the Elias Hraoui paediatric ward. Amara had suffered from respiratory problems since birth, and her frequent admissions to hospital had left her parents great in debt. "I'm very grateful for the free services provided by MSF in the hospital," says Rakad. "Without them, I would have had to borrow money again from relatives to get my daughter the treatment she needs."
In addition to the inpatient services at the Elias Hraoui, MSF's paediatric programme in Zahle also includes specialised outpatient healthcare services provided in partnership with Women and Health Alliance (WAHA). The programme works to maintain sustainable paediatric care, especially for children suffering from complications caused by chronic diseases or acute conditions, medical or surgical.
In the programme's first year, MSF provided more than 2,500 emergency consultations, admitted 975 children, including 35 to the intensive care unit, that opened late December 2017. The team also performed 67 surgical operations, between October 2017 and March 2018.
MSF at glance:
MSF is an international, independent, medical humanitarian organisation that delivers emergency aid to people affected by armed conflict, epidemics, natural disasters and exclusion from healthcare in 72 countries around the world. MSF offers assistance to people based on need alone, irrespective of race, religion, gender or political affiliation. When MSF witnesses serious acts of violence, neglected crises, or obstructions to its activities, it may speak out about this.
MSF began working in Lebanon in 1976 in response to the Lebanese Civil War, sending medical teams to the south of the country and to Beirut. This was MSF's first mission to a war zone.
Photo credits: Florian SERIEX/MSF
Anaïs Ludolph Media Coordinator, Médecins Sans Frontières/Ärzte ohne Grenzen (MSF)
Etienne Lhermitte Media Officer, Médecins Sans Frontières/Ärzte ohne Grenzen (MSF)