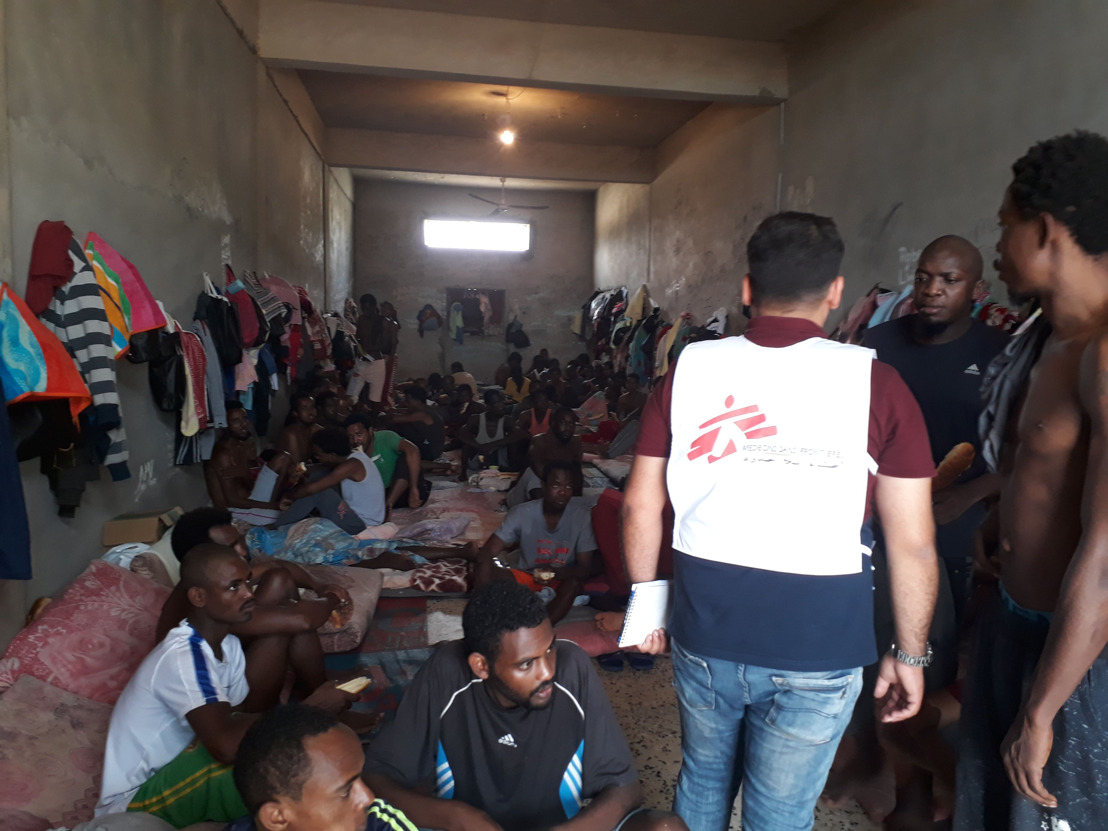 MSF: Stop arbitrary detention of refugees and migrants disembarked in Libya
Wednesday, July 25, 2018 — The international medical organisation Médecins Sans Frontières calls for an end to the arbitrary detention of refugees, asylum-seekers and migrants in Libya after a dramatic increase in the number of people intercepted in Mediterranean by the EU-supported Libyan Coastguard and disembarked in Libya. At least 11,800 people have been returned to Libya from unseaworthy boats in Mediterranean so far this year according to UN organisations with interceptions in international waters between Italy, Malta and Libya taking place on an almost daily basis. Upon disembarkation, people are transferred to unregulated detention centres along the coast.
"People who have just suffered a traumatic life or death situation at sea should not be transferred to a system of arbitrary detention that is harmful and exploitative" said Karline Kleijer, MSF's Head of Emergencies. "Many have already endured alarming levels of violence and exploitation in Libya and during harrowing journeys from their home countries. There are victims of sexual violence, trafficking, torture and ill treatment. Among the vulnerable are children (sometimes without a parent or guardian), pregnant or breastfeeding women, the elderly, people with mental disabilities or with serious medical conditions."
With no formal registration or proper record-keeping in place, once people are inside a detention centre there is no way to track what happens to them. Detainees have no option to challenge the lawfulness of their detention or treatment. Evacuation programmes run by the UN Migration Agency (IOM) and the UN Refugee Agency (UNHCR) to help refugees and migrants get out of arbitrary detention were scaled up late last year but only help a limited proportion of the total refugee and migrant population in Libya. The principal measure, facilitated by IOM, has primarily consisted in stepping up so-called "voluntary" returns of migrants from detention centres to their countries of origin with around 15,000 people repatriated since November. A positive development, when it allows people trapped in Libya but wanting to return home to do so however the voluntary nature of these repatriations is questionable given the fact people have no other formal alternative to get out of the detention centres. UNHCR has evacuated just over 1,000 of the most vulnerable refugees in detention but most have been taken to Niger where they urgently await resettlement to other countries.
As a result of increased interceptions at sea, MSF teams on the ground in Misrata, Khoms and Tripoli report a sharp increase in the number of refugees, migrants and asylum-seekers being held in already overcrowded detention centres. In a single day, MSF recently provided medical assistance to 319 people intercepted at sea and brought to a detention centre in Tripoli, the majority of whom had been held captive by traffickers for several months before trying to cross the Mediterranean. Around Misrata and Khoms, MSF is treating detainees suffering from second degree burns, scabies, respiratory infections and dehydration. On one occasion, a group of people intercepted at sea were brought to the detention centre without the clothes on their backs having lost everything at sea.
"In Khoms there are over 300 people including very young children locked up in an overcrowded detention centre. The heat is stifling, there is no ventilation and very little access to clean drinking water – it is salt water mixed with sewage" said Anne Bury, MSF's deputy medical coordinator in Libya. "The situation is untenable in the detention centres; it's very tense, people are exposed to abuses of all sorts. People here are desperate, we're seeing detainees with wounds and fractures. There are escape attempts, some people are on hunger strike."
The current situation is a result of attempts by European governments to prevent refugees, migrants and asylum-seekers from reaching Europe at all costs. A key part of the strategy is equipping, training and supporting the Libyan Coast Guard to intercept people at sea and return them to Libya. Returning people to Libya is something non-Libyan ships cannot lawfully do as the country is not recognised as a place of safety. People rescued in international waters in the Mediterranean must not be returned to Libya, but should be taken to a safe port, in line with international and maritime law.
"This cannot be considered an acceptable solution to prevent arrivals to Europe" said Kleijer. "Refugees, asylum-seekers and migrants intercepted at sea should not be returned to Libya, neither should they be detained there on an arbitrary basis in inhumane conditions."
See more about arbitrary detention of refugees, migrants and asylum-seekers in Libya here: https://msf.exposure.co/human-suffering
Photo credits: MSF
Etienne Lhermitte Media Officer, Médecins Sans Frontières/Ärzte ohne Grenzen (MSF)
Anaïs Ludolph Media Coordinator, Médecins Sans Frontières/Ärzte ohne Grenzen (MSF)